sometimes ...
work is hectic, home is hectic, and I just don't have time to blog for a week.
always ...
I try to fit it in. Like today. Not gonna lie, this *might* be my only post this week. Work is just insane and I literally just go home and crash. So it's not like there is anything interesting in my life anyway. ;)
sometimes ...
I start planning and packing for a vacation way early
always ...
it doesn't matter how early I start - I'm always finishing up the morning we leave. Who doesn't? I mean, you have to use your toothbrush that morning anyway. Unless you have a separate one for travel ... but I'm not sure how I feel about that.
sometimes ...
I forget my back hurts. Haha, just kidding ...
always ...
I never forget my back hurts. But some days are better than others.
sometimes ...
I worry for my blog friends when they're going through a hard time.
always ...
that's just who I am. I am a very caring person and if you're my friend, I'll be the best friend you've ever had. :)
sometimes ...
I feel "inspired" to buy something I've seen on someone else's blog.
always ...
that blog happens to be
Lindsey's
. I swear, if The Bargain Blonde says buy it ... BUY IT!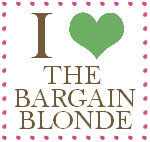 sometimes ...
I have no pictures for a blog post.
always ...
I'll just throw in a hubby pic or a furbaby pic.
how lucky am I to have such a handsome husband???