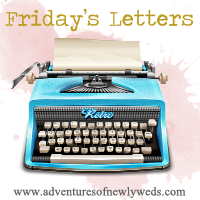 Dear Husband
, Thank you for taking such good care of me yesterday. I was miserable and in pain, and you were wonderful. You're going to make a good father one day.
Dear Blog Friends
, I love you, and I can't tell you how much your texts and tweets and cards mean to me. You may be some of my best friends in the world (and for a certain two of you, you DEFINITELY are).
Dear Dr. Park
, Dude, those steroid injections hurt like HELL yesterday. They better work after all that pain. P.S. Still in pain. Thanks buddy.
Dear Summer
, I am ready for vacation, so if the end of June would just hurry up, I'd appreciate it. (Especially if a certain blog friend and her hubby decide to join us on vacation!)
Dear Einstein
, you, sir, are adorable. Mommy was in pain last night, but you wanted to cuddle, so you laid ON me but were so careful to avoid where my back hurts. I love you, little man.
Dear Mittens
, You may be cute, but busting the bathroom door open while I'm in the shower is not appreciated. I don't have fur and it's cold out there.
Dear Callie
, Start sticking up for yourself, girl. If you don't want to play with your brother, tell him. Don't let him beat you up.
Dear Autumn
, I promise I'll open some windows for you tonight, it was just too cold last night!
Dear Husband
, I love you more than you can ever imagine, and I am so thankful EVERY DAY that I get to spend the rest of my life with you. Oh, and it was super adorable how you called me off the couch last night (while I was recovering) to show me the beautiful rainbow.